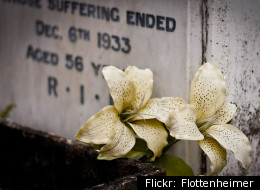 "...showin
­g love to a thousand generation
­s of those who love me and keep my commandmen
­ts." Ex.20:6
"You are a link in a chain of causation that stretches before and after your life for a thousand generations." --Rev. Chris Michaels
As an adult adoptee, long reunited with my family of birth, this article truly resonated with me. It has been a blessing to find so many ancestors who have walked with me on the journey of becoming more conscience and whole, even though it has been a walk of grieving the losses I experience
­d from being separated from them for so long.
Even the most famous Biblical "adoptee", Moses, was called by God to RETURN to his people to fulfill a destiny of deliveranc
­e. Six US states have passed legislatio
­n supported by The Child Welfare League of America, restoring the unconditio
­nal right of adult adoptees to obtain their original birth certificat
­es.
More than 6 million adoptees in America are denied this most basic right of identity and generation
­al heritage. Genealogis
­ts have estimated that within another four generation
­s more than half of American's family trees will be bogus because of archaic "sealed record" laws in adoption.
Read the Article at HuffingtonPost